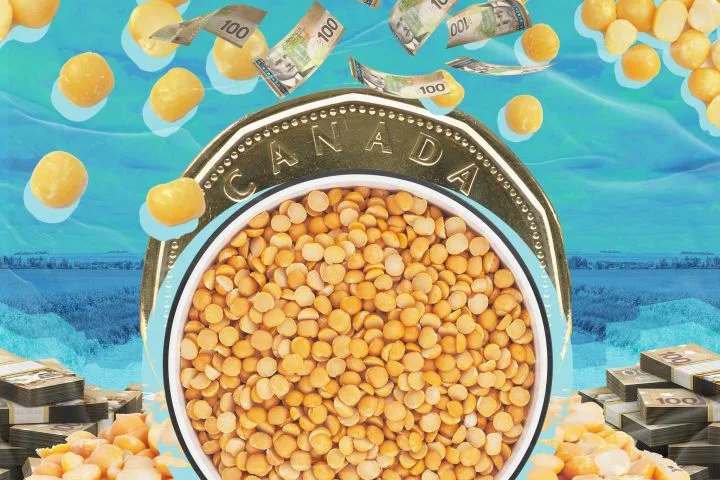 From grocery store aisles to restaurant menus, consumers around the world are being offered more and more plant-based options when it comes to dishes rich in protein. And based on the success of plant-based meat substitutes like those offered by Beyond Meat, whose entry into the stock market three years ago sent investors into a frenzy, the sector is a lucrative one with plenty of room to grow.
With an increasing consumer demand, and possibly need, for plant-based protein, could Alberta become a global leader in supplying it? Canada is already the planet's largest producer of dry peas and lentils. At 4.6 million tons in 2017 alone, the country is also a global power in terms of the production and exportation of pulses. In terms of producing the crops needed, Alberta appears ripe to capitalize on the opportunity.
READ MORE: Beyond Meat launching in Canadian stores amid race to build a better veggie burger
"There's been very few trends in the food industry in the last 25 years that have given this level of opportunity," says Bill Greuel, the CEO of Protein Industries Canada (PIC), a not-for-profit organization tasked with propelling Canada's plant protein and plant-based product sector to becoming a major global provider.
"When you think about the stars that are aligning here (consumers seeking healthier food options, diets that have less negative impact on the environment and animals)… growth of the plant-based food sector is real, and it's growing at an unprecedented rate." 
The federal government anticipates the sector will deliver $10 billion in GDP impact over 10 years, along with over 4,500 jobs in the same time frame.
READ MORE: Federal government gives additional $750M for Canadian superclusters
While Alberta is not a Canadian leader when it comes to soybean production, it is when it comes to the production of pulses: chickpeas, lentils and perhaps most importantly — because of their increasing popularity as a plant-based food ingredient — dry peas.
According to crop production projections released by Agriculture Canada last month, Alberta is expected to make up 41 percent of dry pea production in the country in 2022-23. Alberta is expected to account for the second-largest share in terms of dry pea, lentil and chickpea production. Production of all three crops is expected to increase significantly in Canada compared to a year earlier.
But when it comes to processing those raw materials to create plant-based food products or the ingredients needed to do so, Alberta has yet to stake its claim as a leader.
Allison Ammeter is a grain farmer who also serves as director of the Alberta Pulse Growers Commission, a non-profit that advocates on behalf of thousands of farmers. She served as chair of the Plant Protein Alliance of Alberta (PPAA) until it ceased operations last year.
She believes Alberta needs to "get into the industry in a big way while there's still room to get in."
"I would say five or even 10 years from now, there will be all the plants built for the current need. Not right now — we're nowhere near close to that."
"It's this whole ecosystem that we are giving away," says Christine Lewington, the CEO and founder of PIP International, an Alberta-based agri-tech company producing pea protein.
READ MORE: Alberta has highest food insecurity rate among Canadian provinces: report
She adds that with increasing attention being drawn to the issue of food security, the ability to offer plant protein is a selling point.
"We have that in Alberta," Lewington says. "Europe is all over food security.
"We bring in our finished products in Alberta… We don't value-create here."
Ammeter suggests Alberta could be on the cusp of capitalizing on the explosion of demand for the product, drawing an analogy to growth in the province's oil industry in the middle of the 20th century.
"They unlocked the oil industry by bringing in the money," Ammeter says. "We will unlock our industry when we have the investment."
'Let people know what the potential is'
In a bid to boost innovation in the economy, the federal government announced in 2018 it had selected five innovation superclusters, one of which was the protein industry. This led to the creation of PIC.
"There's a lot of upside potential and excitement (in Alberta)," Greuel says. "It's pretty favourable from an operating perspective."
He cites Alberta's low corporate tax rate and availability of land and feedstock as advantages the province has in trying to grow the sector. He also says Alberta has "lots to offer in terms of innovative farmers."
READ MORE: Business leaders believe protein supercluster will 'turbo-charge' agriculture investment
The PPAA used to advocate for the sector and help facilitate its growth in Alberta. It ceased operations after the provincial government announced last year it would not continue to provide it with $250,000 in annual funding, a move Ammeter says "spoke volumes" to a lot of people.
Ammeter believes Alberta's government can play an important role in helping the sector reach its potential.
"I would like to see our government saying, 'We have this incredible natural resource… We are going to do everything we can to promote value-add in Alberta.'"
'We think the global market for plant-based foods is going to be about $250 billion'
A 2019 analysis conducted by the National Research Council of Canada found that "annual global sales of plant-based meat alternatives have grown on average eight per cent a year since 2010, with projections forecasting that, in 25 years, 20 per cent of meat will consist of plant-based and clean meat."
The NRC forecasted that global revenues when it comes to plant-based dairy substitutes will reach USD$34 billion in 2024 and added the plant-based beverage market also continues to grow significantly.
"In Canada, sales of plant-based protein products rose seven per cent to more than $1.5 billion in the 2016-17 fiscal year," the report reads.
READ MORE: Global plant protein summit lands in Saskatoon
A report for the federal government recently found over 40 per cent of Canadians are "actively trying to incorporate more plant-based foods into their diets."
"If you're looking at grocery stores' sales of plant-based food, that has increased considerably over the last five years," Greuel says.
But some point out the sector's rise has not been immune to peaks and valleys. For example, in a fourth-quarter financial report released early this year, Maple Leaf Foods noted sales from its plant-based division saw a decline of 4.7 per cent in 2021, even though it generated more than $184 million in sales for the year.
"While work is continuing, analysis to date demonstrates a clear slowdown in projected growth rate for the overall category compared to very high growth rates predicted in 2019," the Maple Leaf report reads.
Greuel acknowledges that since the COVID-19 pandemic hit, growth figures may have "softened to some degree" but adds the sector is "still seeing year-over-year growth."
© PIP – INTERNATIONAL. All Rights Reserved.
© PIP – INTERNATIONAL. All Rights Reserved.
© PIP – INTERNATIONAL. All Rights Reserved.