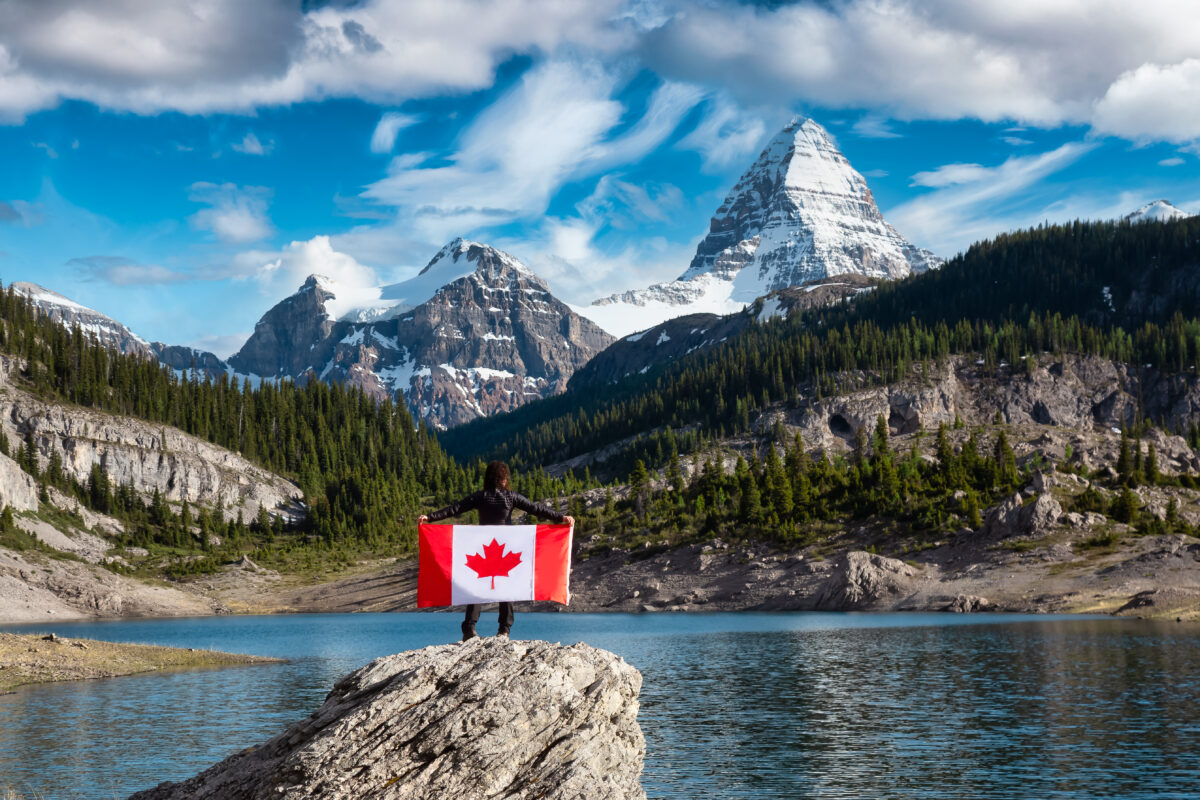 Canada's best locations 2022
Two major projects announced in Ontario, Canada, this summer epitomize what one might call northern composure — as in calm, serene and self-assured. As in poise and aplomb, or even the old sense of a well-composed, complete package.
The fact that they're both in Ontario only accents the power of the province that this year earns Site Selection's No. 1 ranking as the most competitive province in the nation, beating out fast-rising Saskatchewan and British Columbia based on cumulative and per-capita calculations from corporate facility projects, those projects' capital investment and jobs as documented by Site Selection's Conway Projects Database.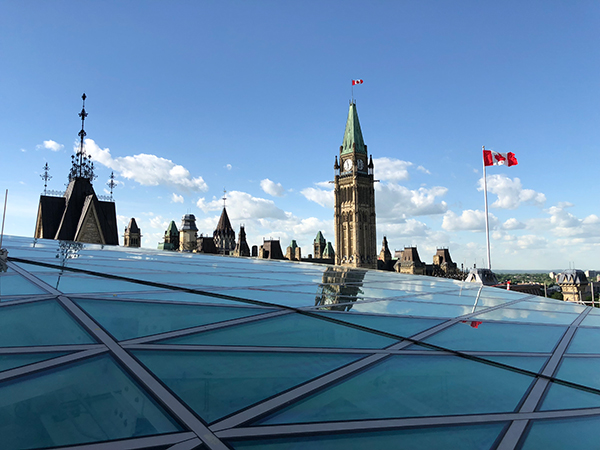 In the national capital of Ottawa and across Canada, there is a fertile mix of heritage and forward thinking.
Photo of The Peace Tower from the West Block of Parliament courtesy of EVOQ
Belgium's Umicore in July announced it had signed a memorandum of understanding with the Government of Canada finalizing the government's support under its Strategic Innovation Fund for a new $1.5 billion (all dollar amounts in Canadian dollars), 700-plus-job manufacturing facility for cathode active battery materials on a 350-acre site in Loyalist, part of the Kingston, Ontario, region. Over 18 months ending in April, Ontario attracted more than $12 billion in investments from Ford, ArcelorMittal Dofasco, Honda, GM and a JV between LG Energy Solution and Stellantis.
"Canada and the Ontario province have all it takes for Umicore to establish a full-fledged, sustainable supply chain for battery materials, all the way from the mine right to the end-market of electric vehicles," said Mathias Miedreich, CEO of Umicore. In an interview with The Globe and Mail, he said U.S. sites were considered, but when incentives discussions ensued with a combination of provincial and federal officials, "Canada spoke with one voice."
The news followed French life sciences company Sanofi's June announcement that it will open an Artificial Intelligence Center of Excellence in Toronto, where more than 100 new employees will join Sanofi's global network of existing digital hubs in Paris, Boston, New York and Barcelona. The news follows Sanofi's commitment to a $900 million end-to-end vaccine manufacturing facility in Toronto. Joyce Drohan, Sanofi's global chief data officer, cited the company's ability in Toronto to attract top AI talent and partner with leading academic and research institutions as it joins "the city's vibrant high-tech community, which is recognized as one of the world's premier AI and data ecosystems."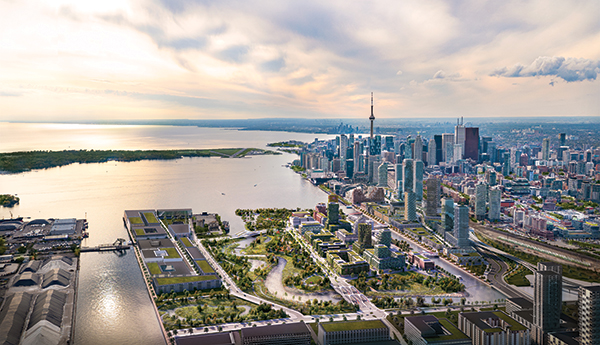 A C$25 million contribution from the Pierre Lassonde Family Foundation will create a new outdoor public art trail on the future Villiers Island in Toronto's transformed Port Lands.
Artist's rendering courtesy of Norm Li AG+I
The country has it together when it comes to the living ecosystem too, as Calgary topped all North American metro areas in The Economist Intelligence Unit's 2022 Liveability Index at No. 4 in the world, just ahead of No. 5 Vancouver. Toronto and Montréal weren't far behind among North American cities, both finishing above the first U.S. city in the ranking, Atlanta.
"When it comes to liveability," The Economist stated, "it seems the further north you go the better."
Below are citations honoring the top three provinces in Site Selection's Canadian Competitiveness Rankings, followed by the top 20 regions (and ties) receiving our annual Canada's Best Locations honor, based on similar analysis of corporate facility investment data.
Canadian Competitiveness Rankings
1st
Trevor Dauphinee, CEO
"Cyclone's partnership with the government of Ontario comes with a strong commitment from our company to increase employment, advance innovation and remain a global leader in aerospace manufacturing." — Robert Sochaj, Vice President, Cyclone Manufacturing, on the company's $21.4 million investment in Mississauga and Milton
Recent Projects: Tata Consultancy Services, Honda Canada (Alliston), Stellantis (Brampton and Windsor), Barry Callebaut, DOT Foods Canada
In 2021, manufacturing accounted for almost 660,000 jobs in Ontario and more than 10% of the province's GDP. Relaunched in December 2021, the $22 million Ontario Automotive Modernization Program (O-AMP) is helping help make suppliers stronger, faster and more resilient by investing in technology adoption and/or training in lean manufacturing. "Nearly 150 projects are either underway or completed under the program, and they are expected to create more than 820 jobs," says the Ministry of Economic Development, Job Creation and Trade. Over 18 months ending in April 2022, The Ontario government also has launched Skilled Trades Ontario, a new Crown agency, to improve trades training and simplify services.
2nd
Hon. Jeremy Harrison, Minister of Trade and Export Development, Minister of Immigration and Career Training, Minister Responsible for Innovation Saskatchewan, Minister Responsible for Tourism Saskatchewan
"Saskatchewan has been an amazing place to do business because of the ability to connect the entire seed-to-fork value chain."— Lionel Kambeitz, CEO and Executive Chairman of plant-based protein company Above Food
Recent Projects: BHP Group Ltd. Catalyst Paper, Norsask Forest Products/Meadow Lake Tribal Council,
In 2021, Saskatchewan's potash sector recorded all-time high production and sales of $7.6 billion. Over the last 15 years, Saskatchewan producers have committed $30 billion towards new potash mines and expansions. Saskatchewan's manufacturing sector continued to show steady growth with $2.2 billion in manufacturing sales in May 2022, a 36.1% increase from May 2021. The forest products sector is especially active, including the $550 million restart of a former Weyerhaeuser pulp mill by Paper Excellence in Prince Albert. "We are a global leader in uranium and potash production and an emerging producer of helium, lithium, copper, zinc and rare earths," Energy and Resources Minister Bronwyn Eyre said in April 2022. "The world needs what Saskatchewan has to offer."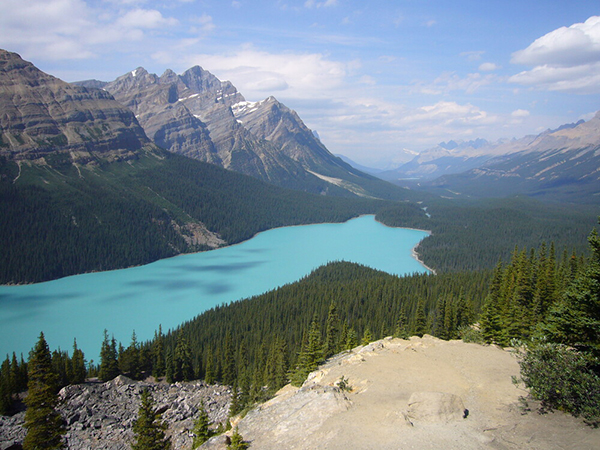 Peyto Lake is located in Banff National Park in the Canadian Rockies, a UNESCO Heritage Site.
Photo by Maureen J. Flynn courtesy of UNESCO
3rd
Hon. Ravi Kahlon, Minister of Jobs, Economic Recovery and Innovation
"BC's life sciences sector has been on a growth trajectory for the last several years, and our response to the COVID-19 pandemic has attracted worldwide interest in our innovation and capabilities." — Wendy Hurlburt, President and CEO, Life Sciences BC, on the launch of a new labor market intelligence study to provide a better understanding of the skills employers need
Recent Projects: Bothwell Accurate Co., Damon Motor, Western Forest Products, Hexagon Purus ASA
BC is home to the fastest-growing life sciences sector in Canada with more than 2,000 companies employing 18,000 British Columbians. A connecting thread is the province's vibrant marine and ocean tech sector, with more than 1,000 marine companies having established headquarters in British Columbia. The province is also home to one of the top clean tech sectors in the world, including such companies as Origen Air Systems and Nano One Materials Corp., which last year received a grant from CleanBC worth over $3 million to support the technological advancement of its materials used in electric vehicle batteries. The province nurtures clusters of tech companies in such places as Vancouver, Victoria and Kelowna that are buoyed by the surfeit of talent either migrating to the region or graduating from B.C.'s 25 post-secondary institutions.
Canada's Best Locations
This group of Top 20 regions and ties is based on corporate facility investment data evaluated by capex and job creation on a cumulative and per-capita basis, derived from project data entered into the Conway Projects Database from January 2021 through June 2022. The groups are presented in alphabetical order within provinces presented by those with the most groups.
ONTARIO
Sara Munroe, Director, Economic Development and Tourism
"Ferrero Canada is proud to continue growing in Brantford. This investment brings new jobs to the community and improves efficiencies through increased automation." — Fabrizio Secco, Managing Director, Industrial Division, Ferrero Canada and plant manager for the Brantford facility, on the company's nearly $26 million investment, April 2022
Recent Projects: Mitsui Hi-Tec, Nuts to You Nut Butter, Ventura Foods Canada
The city reports that it issued a record $472 million in building permits for 2021, topping the previous mark of $255.2 million set in 2020. Industrial construction activity spiked from $48.2 million in 2020 to $120.8 million in 2021. In addition to its successful industrial and office projects, the Economic Development & Tourism department welcomed 12 film productions to the City of Brantford in 2021 — "a new record for the city, despite challenges as related to the ongoing pandemic."
Norm Schleehahn, Director, Economic Development
"The fast-growing food processing sector reinforces the need for a multi-purpose facility like this. The time is now for Hamilton." — Rob Vanden Broek, CEO, Sierra Supply Chain Services, at the August 2022 ribbon-cutting for a new C$65 million cold storage facility
Recent Projects: ArcelorMittal, OmniaBio, DHL, Verificient
In an open letter to stakeholders on the organization's website, Norm Schleehahn, the city's economic development director, notes that "the fact that Hamilton exceeded $2 billion in building permit values in 2021 in a relatively virtual environment is astounding … The sight of cranes and growing commercial spaces demonstrated that even during the most challenging of times, Hamilton is still capable of doing great things." This year the city passed $1 billion in ongoing construction value in June, the earliest it's ever reached that benchmark. Among other accomplishments, the 2021-2025 Economic Development Action Plan approved in 2021 identifies six priorities and 77 actions to help Hamilton's economy recover and move forward over the next five years.
Donna Gillespie, CEO
"Kingston has played a critical role in Li-Cycle's success to-date, as it's where we developed our technologies and opened our first commercial facility." — Tim Johnston, Co-founder and Executive Chairman, Li-Cycle, on the company's new center of excellence announced in March 2022
Recent Projects: Umicore, Frulact, Cancoil, Lonza Group, Li-Cycle
Kingston Economic Development restructured the organization and created two new positions dedicated to investment attraction efforts in sustainable manufacturing and health innovation. The Kingston Syracuse Pathway partners signed an MOU in August 2021 formalizing the cross-border soft landing program for business entering the respective markets. In September 2021, working with Canada's Startup Visa Program and LatAm Startup, Kingston hosted a LatAm Scaleup Bootcamp for international startups seeking to expand business in Canada having the city of Kingston as their point of entry. Kingston Economic Development continues to work with McMaster Innovation Park, Windsor WE-Spark Health Institute and provincial partners to establish an Ontario Life Science Corridor.
Kapil Lakhotia, President & CEO
"We are thrilled to commence this next chapter of growth for our company and we believe that London is the best place in the world to execute our vision for a more sustainable future." — James McInnes, Co-founder and CEO, Odd Burger, on the vegan fast-food franchise business's plans to locate a new manufacturing facility under its Preposterous Foods brand
Recent Projects: Nestlé Canada, Ipex, Panela Baking Factory, Aspire Food Group
London was identified this year as the No. 10 emerging tech talent market in North America by CBRE, which noted the area's tech employment has risen recently from 10,000 to 13,000. Among other developments, the area saw the opening of The Grove, a food and beverage incubator/accelerator for the region that already is seeing expansion from companies such as Ethey, the parent company of LiveFitFoods. A new program called Explore the Core is helping 18 businesses move into the city center, creating 160 jobs and repurposing 43,000 sq. ft. of vacant or unused space.
Bonnie Brown, Director, Economic Development and Tourism
"We're able to hire top-notch professionals from myriad cultures and backgrounds, which ensures that we look at things from all different angles, which is vital to the success of our business." — Ian Ng, Site President, Citi Canada, on the company's choice of Mississauga for a new strategic hub
Recent Projects: Bombardier, Henkel Canada, Amazon, GSK, BoomerangFX
In a November 2021 update, Bonnie Brown noted that, among Canada's 10 largest cities, Mississauga is the only one that ranks No. 5 or higher in industry size and concentration across seven key sectors: Aerospace, Automotive, and Food & Beverage Manufacturing, Finance, Information & Communication Technologies, Life Sciences and Smart Logistics. Mississauga has the largest aerospace sector in Canada by employment and number of businesses and is the future home of Bombardier's Global Manufacturing Centre. In June, First Gulf Corp. and Spear Street Capital announced a partnership to redevelop the former Element head office in Sheridan Research Park into a life sciences campus with 350,000 sq. ft. of lab, office and technology space.
Rebekah Diec Stormes, Director, Economic Development
"The Livable Oakville Plan is a historic achievement that helped Oakville become the most livable town in Canada. Our official plan helps us control growth and protect our existing neighborhoods." — Oakville Mayor Rob Burton, December 2021, after a year that among other things saw the town successfully fight off efforts to redevelop the town's historic Glen Abbey Golf Course and saw Amazon move a planned facility to nearby Mississauga
Recent Projects: Hilti, Wiseacre Studios, Dana Inc., Geotab
Oakville's 2021 annual report stated that more than 1,000 new jobs were created in this town of 225,000 people in 2021. The town's economic development department, in partnership with building services, implemented a pilot program to provide enhanced service to priority non-residential building permit applications. From April 1, 2021, to March 31, 2022, three new investment files were successfully supported through the pilot program. "This new approach will get people building and enhance Oakville's competitiveness for new investment," says the Invest Oakville team. Oakville is No. 2 in the GTA by percentage of residents with a bachelor's degree or higher. Plans are underway to transform Midtown Oakville into "a vibrant, people-oriented, mixed-use community that can accommodate more than 13,000 residents and 7,000 jobs in the coming decades," said the annual report.
Judy Morris, Interim CEO
"We are proud to partner with local stakeholders, including Lambton College, by engaging with international graduates to strengthen the local talent pipeline and support economic growth." — Judy Morris, Interim CEO, Sarnia-Lambton Economic Partnership, on the organization's new "Bridging Global Talent in Sarnia-Lambton" initiative
Recent Projects: OWS Rail Car, Imperial Oil, Origin Materials, Diageo, Nova Chemicals, CIMC Refrigerated Trailer
"As Ontario eased its restrictions and businesses began to look for investment opportunities once again, the Sarnia-Lambton Economic Partnership (SLEP) saw the potential for clean energy developments in the area," CEO Judy Morris relates. "The team created a new stakeholder group consisting of industry, academia, and not-for-profit experts to advance the progress of Ontario's Hydrogen Hub." SLEP also assisted the Forest Industrial Park in Lambton Shores in achieving the status of being an Ontario Investment Ready: Certified Site, one of only six in the province.
Stephen Lund, CEO
"As we operate Karrot in Toronto, I was deeply impressed by how people are genuinely embracing diversity — truly shaping who Canadians are as a collective — while each Toronto neighborhood embodies a distinct culture at the same time." — Gary Kim, Co-Founder, Karrot, on the Korea-based community app company's decision to establish a new office in Toronto, March 2022
Recent Projects: IBM Canada, Meta, Morningstar, Double Negative Ltd., Hubspot
Since inception in 2017 to March 31, 2021, the spinoff effect of Toronto Global's work has led to the creation of over 13,000 jobs and a $1.69 billion GDP impact to the Canadian economy, according to the organization's 2020/2021 annual report released in September 2021. The report noted 44% of jobs created by new investments in the region are located outside the City of Toronto. Toronto had the highest tech talent job growth in North America since the pandemic began, adding 39,700 jobs between 2019 and 2021, says CBRE's "Scoring Tech Talent 2022" report. Meanwhile, "nearly half of the venture capital deployed in Canada in 2021, a record C$7.7 billion, went to companies based in Toronto and Waterloo," reported Startup Genome's 2022 Global Startup Ecosystem Report, naming the corridor the No. 17 ecosystem in the world.
Tony LaMantia, President & CEO
"With our unmatched programs for entrepreneurs, our role in supporting the Toronto-Waterloo Tech Corridor and our focus on nurturing the next generation of talent, Waterloo will continue to be a university that positions founders for success." — University of Waterloo President and Vice-Chancellor Vivek Goel on the school's No. 22 ranking by PitchBook among top colleges in the world for company founders, December 2021
Recent Projects: EPAM Systems, RTS Companies, Blendtek Fine Ingredients,
CBRE in July named Waterloo the No. 1 small tech talent market in North America for the second consecutive year. That same month, Startup Genome's annual Global Startup Ecosystem Report called Toronto-Waterloo the top startup ecosystem in Canada, No. 8 in North America and No. 17 globally. Also in July, Resonance Consultancy ranked Waterloo No. 5 in Canada among cities with populations of 200,000 or less., noting that "an astounding 1,000-plus companies have been founded by UWaterloo grads," and about 18% of all founders in Canada are from Waterloo. Need to get in and out more smoothly? The Region of Waterloo International Airport in October 2021 launched a $44 million expansion that will double the facility's size.
Stephen MacKenzie, President and CEO
"With this announcement, we are securing the future for thousands more local workers and securing Windsor's strategic location as the home of Canada's electric vehicle future." — Drew Dilkens, Mayor of Windsor, on the multi-billion-dollar investment plans of Stellantis and LG, March 2022
Recent Projects: Stellantis/LG, Amazon, Dongshin Motech, Dimachem
A JV between Stellantis and LG will see a total investment of over $5 billion in a facility to manufacture batteries for EVs. The facility will supply Stellantis plants in Windsor and across North America and will be operational by 2025, with an eventual payroll of 2,500 jobs. Investments like these received reassurance in July when U.S. legislation that was to have excluded Canadian-made "clean vehicles" from a US$7,500 tax credit changed course and included them instead. In June, Invest WindsorEssex launched a marketing campaign in Michigan, Ohio, Illinois and Indiana targeting small to medium-sized technology companies to expand their operations in what they call "Canada's rapidly growing automobility capital." Last year, with an investment of over $7.5 million from FedDev Ontario, Invest WindsorEssex launched a five-year plan to provide programming, training and facilities to support the upskilling of over 1,300 automobility entrepreneurs and firms and attract $40 million in FDI.
QUÉBEC
Stéphane Paquet, President & CEO
"Montréal International … is a major ally to our government as we transition into the economy of tomorrow, which we want to be more just, greener, more innovative, and more resilient." — Hon. Pascale St-Onge, Member of Parliament for Brome–Missisquoi, Minister of Sport and Minister responsible for Canada Economic Development for Québec Regions
Recent Projects: Moderna, C3RiOS, Vantage Data Centers, Kyndryl, ABB
Celebrating its 25th anniversary in style, Montréal International (MI) reported in March 2022 that it set new records in 2021 by attracting $3.765 billion in foreign investment — a 69% increase compared to the previous year. "A total of 1,135 international workers—including hundreds of health and education workers—were added to Greater Montréal's pool of skilled workers as a result of MI's efforts. MI also spearheaded Montréal's successful bid to host the International Sustainability Standards Board (ISSB)." All in all, MI supported 100 projects, leading to the creation of 11,550 jobs with average annual salaries of more than $82,000. "The foreign companies that have invested or reinvested in one of Greater Montréal's 82 municipalities are based in 25 different countries," MI reported. Among other tools, The talentmontreal.com site registered 54,000 international candidates, mainly in IT, and had almost 900,000 visitors in 2021.
Carl Viel, CEO
Québec City and more particularly Vanier-Les Rivières is currently at the heart of the economic recovery. Through this innovative project, BOSK is positioning Québec as a global producer of bioplastics in line with sustainable development. Thank you for being pioneers in 100% bio-based, non-toxic and compostable materials." — Mario Asselin, Member of Parliament, Vanier Les Rivières, on the company's June 2021 inauguration of a 100% bio-based bioplastic production line
Recent Projects: Microsoft Canada, Distribution Stox, Soylutions, Bosk Bioproducts, Fonds QScale S.E.C., Derby Building Products
Québec International reports its increased efforts have resulted in an economic impact of $973.9 million, an increase of more than 32% over 2020. That includes $478.1 million in FDI, a 47.4% jump. "In the area of technology entrepreneurship, there was robust growth, with spinoffs of $208.4 million, a 12-fold increase since the inauguration of the LE CAMP incubator-accelerator in 2016," QI reports. "A total of 1,860 jobs have been created or maintained by FDI and technology entrepreneurship resulting in an average (weighted) salary approaching $113, 400." As for the labor shortage felt the world over, QI initiatives implemented over the past year "will have enabled the recruitment of 2,314 international workers and students, contributing to the arrival of 4,000 newcomers, including spouses and children," the organization reports.
Sylvain Durocher, Executive Director
"With the Sherbrooke studio, Ubisoft is living up to its promise of being a significant economic engine and of continuing to invest in talent and the ecosystems that surround it." — Yves Guillemot, Co-Founder and CEO, Ubisoft, on the opening of its fourth game development studio in the province where it already employs 5,000 people, November 2021
Recent Projects: Chocolat Lamontagne, Métosak, Kruger Products, Herwood, BioMimir, DE LA FONTAINE
Quantum Sherbrooke is one of the first Innovation Zones designated by the Québec provincial government and is intimately connected to the University of Sherbrooke. It includes CITEC (Technological Innovation and Circular Economy Hub); Usine CINQ (Center for Digital and Quantum Innovation); the Institute quantique (fundamental research); the Espace Quantique (collaborative workspace and office); and Entrepreneurship Headquarters in downtown Sherbrooke. Among the companies associated with this sector is quantum computer maker Pasqal, which is opening offices in Sherbrooke and Boston. Pasqal, 1Qbit and Eidos-Sherbrooke between them will inject $205 million into the local economy over the next five years.
Mario De Tilly, CEO, Chief Executive Officer
"The construction of this new pavilion will position Mauricie as a true leader in Québec and in the world in terms of innovation and energy transition." — Pierre Fitzgibbon, Québec Minister of Economy and Innovation, announcing [translated from French] in April 2022 a grant of $39 million toward a $46 million UQTR research center for green and sustainable technologies to be constructed in downtown Trois-Rivières
Recent Projects: Ultium, GM, Shawinigan Aluminium, EPC Canada Explosives, Marquis Book Printing
Trois-Rivières, located in the Mauricie region halfway between Montréal and Québec City is focused on the six strategic development hubs of metal processing and equipment manufacturing; environmental technologies and life sciences; aeronautics; logistics and distribution; ICT; and telecommunications and electronics. Among its offers: More than 104,400 workers within 31 miles, and the Université du Québec à Trois-Rivières (UQTR), home to the Hydrogen Research Institute and research groups in plant biology and industrial electronics. IDE Trois-Rivières recently opened its third business center in space located in the town's former train station.
ALBERTA
Brad Parry, President and CEO
"Calgary is not just Canada's energy capital, it is also Canada's energy transition capital." — Kevin Krausert, CEO & Co-founder, Avatar Innovations, on a $500,000 contribution from the Opportunity Calgary Investment Fund toward a new venture studio, Avatar Innovations, located in the Energy Transition Centre downtown
Recent Projects: Ernst & Young, Equinix, IBM Canada, Symend, Rogers Communications
Calgary is home to seven post-secondary institutions and saw a 300% increase in tech training program completions in 2019, even before such programs achieved big momentum during the pandemic. This summer Calgary Economic Development, the Opportunity Calgary Investment Fund (OCIF) and numerous collaborators invited qualified firms to submit proposals for a new innovation district scoping study. OCIF — a $100 million initiative launched by the City of Calgary in 2018 to make milestone-driven grants to select organizations based on achieving employment and other innovation ecosystem development metrics — is also supporting IBM's new Western Canada Client Innovation Centre. Altogether, OCIF has allocated $68 million to 22 projects. "As Calgary's reputation for innovation grows, more companies like IBM are recognizing the value Calgary offers including the ability for their people to have a rewarding career and great life here," said Calgary Mayor Jyoti Gondek.
Malcolm Bruce, CEO
"Port Alberta will help ensure that industry can grow and products can easily move in and through the Edmonton Metropolitan Region. As an emerging logistics hub with the fastest shipping times to the Ports of Vancouver and Prince Rupert, the capital region is the perfect location to build on that strength through Port Alberta." – Doug Schweitzer, Alberta Minister of Jobs, Economy and Innovation, on the relaunch of Port Alberta, an initiative to further develop and promote the region as an inland port, March 2022
Recent Projects: Labatt, HCL Technologies, Alida Inc.
From April 2021 through March 2022, Greater Edmonton saw corporate project investment totaling more than $1.6 billion creating 2,730 jobs. Launched in April 2021, the Edmonton Region Hydrogen Hub is a commitment by area leaders to leverage the region's position as a low-cost producer of low-carbon hydrogen to develop its hydrogen value chain and capture a part of what is estimated to be a $100 billion hydrogen economy in Canada. Air Products recently announced its intention to build the world's largest net zero hydrogen facility in the Edmonton region and Western Canada's first hydrogen liquefaction facility. Meanwhile, Dow is said to be mulling a $10 billion investment in the world's first net-zero ethylene manufacturing facility in Alberta's Industrial Heartland in the northeastern part of the region.
Trevor Lewington, CEO
"The growing demand for plant proteins is at an all-time high, but consumers still want more enjoyable and sustainable plant-based options." — Christine Lewington, CEO, PIP International, on the company's planned investments in processing facilities in Lethbridge
Recent Projects: Pip International (2), EFS-Plastics, Canary Biofuels
In 2021, Economic Development Lethbridge (EDL) returned $475 of direct economic impact for every dollar of funding received from the City of Lethbridge. In May, PIP International Inc. held the formal kick-off for its $20 million yellow pea wet fractionation pilot facility and commercial testing centrer and unveiled progress toward construction of a large wet fractionation protein processing facility in Lethbridge's Sherring Business and Industrial Park. Of the 160 businesses who participated in EDL's annual Brighter Together survey that wrapped up in January 2022, 74% felt positive about the overall health of their business, up from 63% in 2020. With 101,800 residents, Lethbridge is the third largest metro in Alberta. Lethbridge is one of the sunniest cities in Canada, with more than 320 days of sunshine every year, and warm Chinook winds that frequently blow off the Rockies in the winter.
SASKATCHEWAN
Chris Lane, President & CEO
"You have a community here where we can request meetings with ministers or deputy ministers and actually meet them face to face within a couple of days — where we know each other, where there is trust established; relationships built, which is simple not possible in larger jurisdictions." — Mark Cooper, CEO, Prairie Clean Energy, on the progress of the world's first ever flax pellet biomass processing facility, expected to be up and running by year's end
Recent Projects: AGT Food and Ingredients/Federated Co-Operatives Ltd, The Scoular Co., Prairie Clean Energy
Among the 90 respondents to Economic Development Regina's semi-annual Regina Executive Leadership Outlook survey in June, 55% expected to increase their fixed investments over the next 12 months, and 62.5% expected to increase hiring. That same month's report card on the region's economic performance found that non-residential building permit value had risen from $8.7 million in April 2021 to $18.7 million in April 2022. Regina's target sectors are agriculture and food; advanced manufacturing; energy & environment; tourism and events; and financial services. Among the assets helping Regina and the province stay on track for Canada's ambitious carbon reduction goals is the Clean Energy Technologies Research Institute (CETRI) at the University of Regina.
Alex Fallon, President and CEO
"If I don't see steam coming out, it's like I'm breathing down their necks: 'Why aren't you producing potash!' " — Nutrien President and CEO Ken Seitz, in the Saskatoon Star Phoenix, speaking at the June 2022 grand opening of his company's new headquarters tower in Saskatoon about his view of three different potash mines the company operates nearby
Recent Projects: Nutrien Ltd., Inland Steel Products, Crestline Coach Ltd., Great Western Brewing Co.
Over $210 million in venture capital investments occurred in Saskatchewan in 2021 and $107 million in Q1 2022. A 40-acre parcel of urban land reserve in Saskatoon will see the construction of Kahkewistahaw Landing, a multi-use gathering place that will house a medical center providing culturally sensitive social services, commercial and office space, a conference center and hotel and the headquarters for the Federation of Sovereign Indigenous Nations. Among current and pending investments in agri-food and mining, the Saskatchewan Research Council and the Saskatchewan government last year announced a $35 million rare earth processing facility to be located in Saskatoon. Adjacent land and facilities have been leased by Cheetah Resources Saskatchewan and Northstar Innovative Developments, potentially making way for a rare earth processing hub in the city.
BRITISH COLUMBIA
Eleena Marley, CEO
"The past forty-five years have cemented the film industry as a crucial economic pillar for our city, employing tens of thousands of Vancouver residents in diverse, well-paying jobs and paying billions in wages." — Vancouver Mayor Kennedy Stewart, October 2021
Recent Projects: Nirvana Life Sciences, Empire Co. Ltd., Lululemon Athletica Canada, Precision NanoSystems
The VEC in June announced its Zero Emissions Economic Transition Plan (ZEETAP), a three-year initiative that aims to help workers and businesses navigate the transition to a net-zero economy. Over the past 10 years, Vancouver has experienced strong growth in its green economy, with green jobs growing by 87% and a quadrupling of the number of businesses "greening" their operations, says the VEC. While it was a 16.6% drop from a "record-shattering" $4.1 billion spent in 2019, the $3.4 billion spent in the region by the local film, television, post-production and animation industries was "a pleasant surprise to even optimistic industry stakeholders," said the VEC last October, just after Walt Disney Animation Studios announced a new studio in Vancouver and Double Negative announcing it would add hundreds of jobs across Canada including 150 in Vancouver.
Paul Holden, President & CEO
"Our world is changing rapidly and cities like Burnaby need to be able to adapt quickly and deploy innovative solutions to solve the emerging challenges we face in the 21st century, and we're excited to be partnering with one of Canada's top research universities to find those solutions." — Burnaby Mayor Mike Hurley at the July announcement of the Civic Innovation Lab, a partnership project that will harness the academic and research capacity of Simon Fraser University to find fresh solutions to issues and challenges affecting Canadian cities
Recent Projects: Parkland Fuel Corp., Bridge Studios Holdings, Electronic Arts, Amazon, Kardium
The city in early 2022 committed to a $500 million investment in key infrastructure, which Mayor Mike Hurley said "will tie into our long-term plans to make vital shifts in housing, transportation and climate action in Burnaby." As new residents pour into B.C. in general and the Vancouver region in particular, as of May 2022 more than 9,600 units of rental housing — both non-market and market — were either being built or in the development stream. Meanwhile, in addition to the expanding Electronic Arts campus, the city sold a parcel of land to Larco Investments to develop a 300,000-sq.-ft. film studio expected to generate more than 1,000 good jobs. Burnaby is already home to more than 60% of B.C.'s purpose-built sound stages.
MANITOBA
Dayna Spiring, President & CEO
"All inland ports have rail at the heart of their developments and the CentrePort Canada Rail Park is the linchpin in realizing the vision for a true trimodal inland port — and North America's largest — right here in Manitoba." — Diane Gray, President and CEO, CentrePort Canada, on plans to develop a new 665-acre rail park with Focus Equities
Recent Projects: Maple Leaf Foods, Ubisoft, Palliser Furniture Ltd., Amazon, Paterson GlobalFoods
Economic Development Winnipeg created Talent & Workforce Development and FDI teams in late 2019, and its Market Intelligence team has developed a series of data dashboards to support better decision-making for companies. Intelligence gathered from company leaders by the organization's Business Development team has bolstered ED Winnipeg's support for enhancing the Interactive Digital Media tax credit, one of the reasons (in addition to diversity and depth of talent and the education ecosystem) that Ubisoft Winnipeg was encouraged to expand in the city. In July 2021, Winnipeg was named one of TIME's World's Greatest Places and in October 2021 it was named the world's Most Intelligent Community by the Intelligent Community Forum.
NEW BRUNSWICK
Kevin Silliker, Director, Economic Development
"I am delighted that we have been able to secure a suitable home for our Land Systems business in New Brunswick and expect, over the years ahead, that Marshall will become a leading employer in the region, creating a host of high-value employment opportunities both directly and through our broader supply chain." — Marshall Canada Managing Director Sam Michaud, on the finding of a site in Moncton for its new Land Systems production and integration facility, March 2022
Recent Projects: ALIVE Kombucha, Missing Link Technologies, Walmart, Marshall Land Systems
The Conference Board of Canada projects Moncton will grow at 1.9% through 2024, buoyed in part by construction momentum on projects such as the Junction Urban Village development. Among other attractions: Office space is as much as 60% lower than other urban areas, and home ownership in Moncton is 37% of the national average. In July the city announced that total value of building permits so far in 2022 had reached $220.5 million spread across 624 permits, with the second quarter's permit value 4.5 times the total from Q1 and May 2022 turning out to be the best May in the past decade. Also in July, the city council approved Moncton's first Community Energy and Emissions Plan (CEEP), an action plan to get the community to net-zero greenhouse gas emissions by 2050.
NOVA SCOTIA
Wendy Luther, President & CEO
"My favorite activity in Halifax is to duck out of the Rafflebox office during lunch and go for a walk on the Halifax waterfront … I continue to be impressed by this city's ability to maintain its character and history while embracing innovation." — Simon Cusack, Co-founder, Rafflebox, on returning to his home territory to open a new office
Recent Projects: CPQi Inc., BeyondTrust, Avanade Inc., Cognizant Technology Solutions
According to the Halifax Index 2022, Halifax welcomed more than 9,200 people in 2021 and had the third highest growth rate of major cities in Canada, driven by interprovincial migration. Business confidence in Halifax reached an all-time high thanks in part to rebounding retail sales and GDP growth of 6%, while over three-quarters of residents surveyed said they were satisfied or very satisfied with life in Halifax. "By many metrics, Halifax is coming out of the pandemic in a strong position," said Ian Munro, chief economist, Halifax Partnership, in May 2022. "Our economy rebounded well in 2021 with over 9,000 more jobs than pre-pandemic, and our population growth remained very positive with more young people, immigrants, and expats calling Halifax home."
© PIP – INTERNATIONAL. All Rights Reserved.
© PIP – INTERNATIONAL. All Rights Reserved.
© PIP – INTERNATIONAL. All Rights Reserved.